Earlier this year, Nationwide Insurance announced that that they will not return to be the primary sponsor on Alex Bowman's No. 88 Chevrolet Camaro ZL1 in 2020, but it has not stopped the company from wanting to go out with a bang.
For the upcoming Monster Energy NASCAR Cup Series Playoff race at Las Vegas Motor Speedway, Nationwide has apparently invited 15 prominent NASCAR paint scheme designers to a contest to see who can come up with the best paint scheme for the brand and it's No. 88 car for that event.
Some of the designers (at least 10 of the 15) have been taking to social media to showcase their designs. The paint schemes — err works of art — that have been shared online so far offer some amazingly unique fresh takes on the No. 88 car.
Here is a collection of what has been shared on social media so far:
Shawn Magee Designs
I'm proud to release my 2 concepts for @AlexBowman88 in his @nationwide88 Camaro running @LVMotorSpeedway in Sept. A lot of great schemes have been released by the 15 designers hand-selected by Nationwide to participate. Look forward to the final 4 selection early this week! 👊🏁 pic.twitter.com/UCt64wkqJA

— SMD Racing (@SMD_racing) July 14, 2019
https://platform.twitter.com/widgets.js
Kyle Sykes Designs
I'm very fortunate to be one of the 15 designers selected to submit a couple of designs for @AlexBowman88 and the @nationwide88 Camaro running at the 1st playoff race @LVMotorSpeedway! Good luck to all the designers who submitted 🤙 pic.twitter.com/EWoSIEJ6jT

— Kyle Sykes Designs (@ksykes_designs) July 13, 2019
https://platform.twitter.com/widgets.js
Speed Visions
It's been hard to keep this a secret, but I can finally show these off! "Tucknut" and "Screamin' Eagle" are competing to be on the #88 this fall.

There's a lot of other cool entries, but I have to say I'm pretty partial to mine!#NASCARhttps://t.co/BPRlmGmSs7 pic.twitter.com/lDsFrLOIWk

— Jon Palmieri (@speed_visions) July 12, 2019
https://platform.twitter.com/widgets.js
Lue Creative
LAMP
Really still in shock I got the opportunity to compete with ~14 other designers to try and be on @AlexBowman88 @nationwide88 car for Las Vegas this fall. So many great cars have already been posted, I'm looking forward to seeing which cars get chosen moving forward! #Nationwide88 pic.twitter.com/HROp4T6ok7

— 🅻🅰🅼🅿 (@Liam_Brotherton) July 14, 2019
https://platform.twitter.com/widgets.js
Elliott Henderson Graphics
J-Cal Designs
Hello Twitter, here is one of my potential designs for @AlexBowman88 for Las Vegas, #nascar #mencs #alexbowman #bowmantheshowman #nationwide88 pic.twitter.com/m732LtO0xe

— J-Cal Designs (@jcalmx189) July 12, 2019
https://platform.twitter.com/widgets.js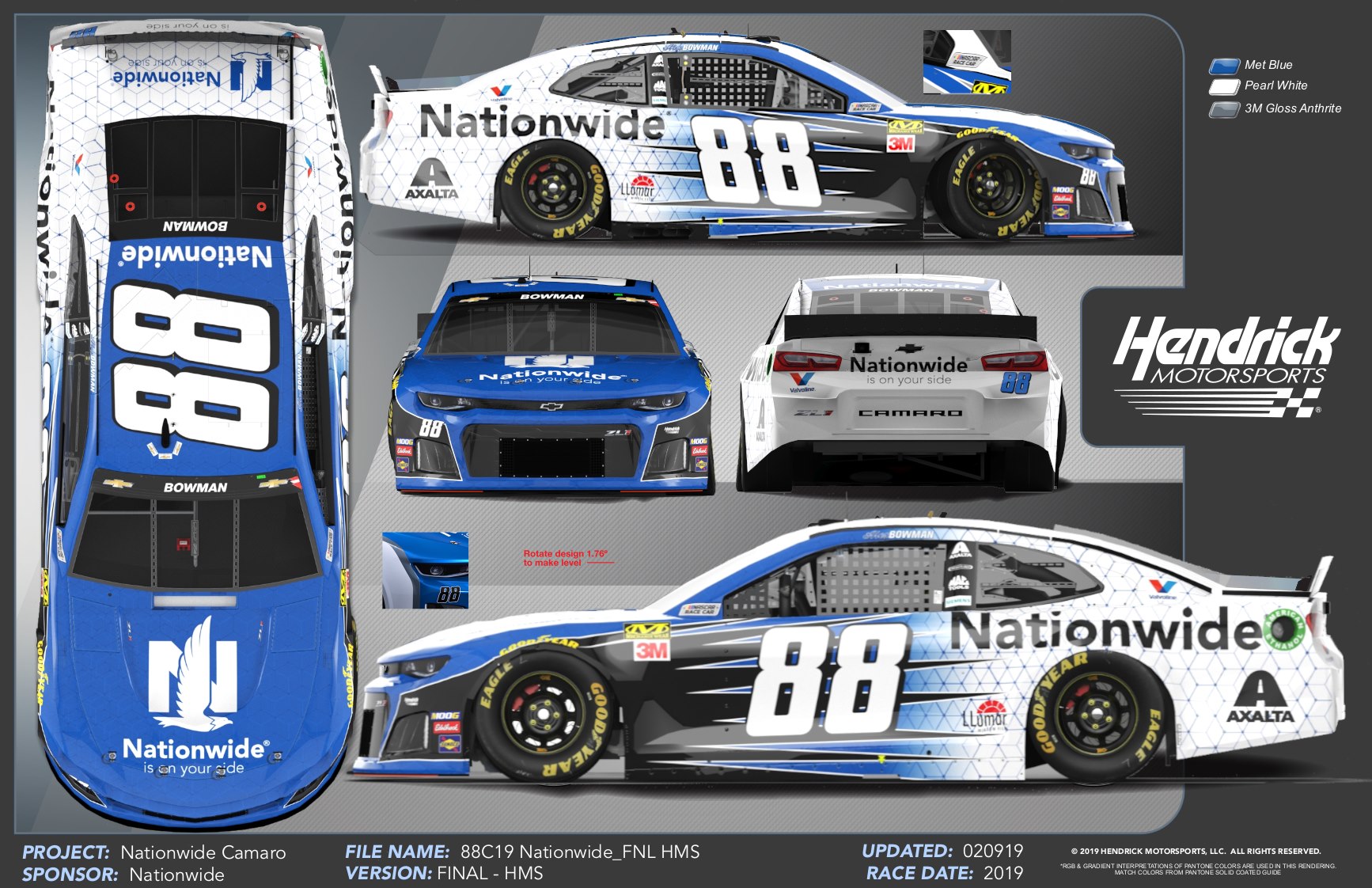 Ryan Pistana
Here are my 2 submissions for the @nationwide88 paint scheme contest which will take place at my home track of @LVMotorSpeedway this fall.

A huge thanks to Nationwide and @TeamHendrick for the opportunity given to all of us designers to have a chance at showing off our talents! pic.twitter.com/etDzhPSdcl

— Ryan Pistana (@ryanpistana) July 15, 2019
https://platform.twitter.com/widgets.js
Ryan Nolen Graphics
George Mihai (GMAL)
Nationwide Insurance, Alex Bomwan and Hendrick Motorsports should be collaborating to narrow the field down to the best four entries this week. Then, an announcement of a winner should follow soon after.
Which of these paint schemes do you hope the No. 88 car rolls with in Las Vegas?