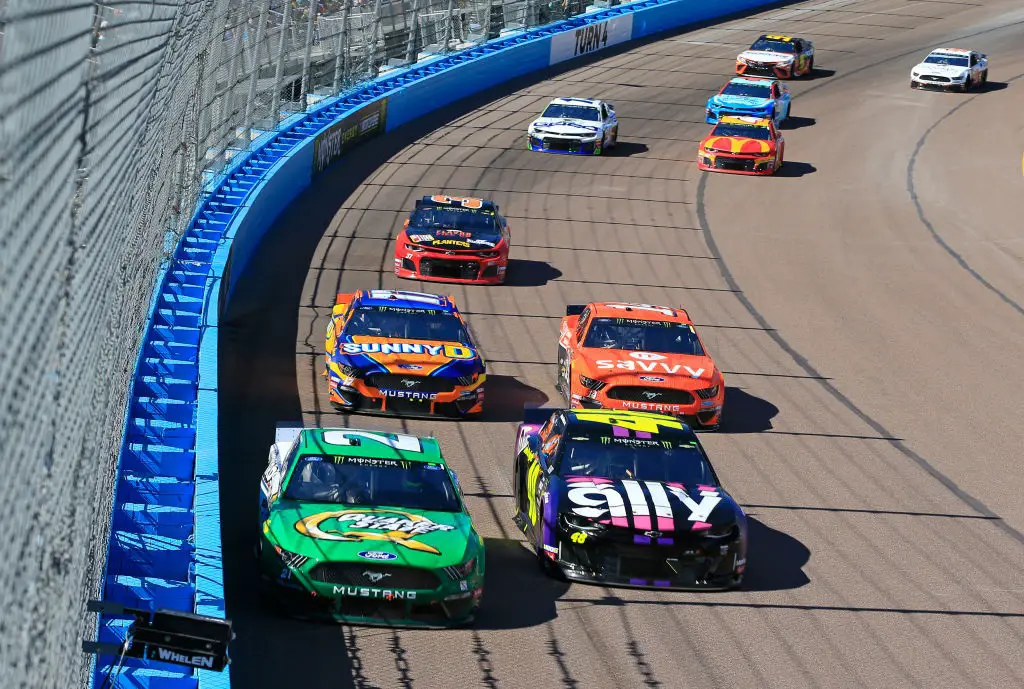 Seven races remain until the Monster Energy NASCAR Cup Series Playoffs begin. For five drivers, it will likely take a flawless seven-race stretch to secure a berth.
After the Quaker State 400 at Kentucky Speedway, Clint Bowyer, Jimmie Johnson, Erik Jones, Ryan Newman and Daniel Suarez are separated by just 12 points.
However, unless they all win races, only three of these five will likely make it into the Playoffs as they currently sit 14th through 18th in the championship point standings (only 16 drivers make it into the Playoffs).
Bowyer finally stopped the bleeding this past weekend. After a four-race stretch that saw no top-10 finishes and three DNFs due to crashes, Bowyer stepped up for a solid sixth place finish in the Bluegrass State.
While this doesn't signal that it'll be smooth sailing the rest of the regular season for Bowyer, it does have to ease the 40-year old driver's mind to know he can still make it to the finish of these races.
For Johnson, he entered Kentucky on a bit of a hot-streak. The driver of the No. 48 car finished fourth at Chicago and third at Daytona and he had people whispering that perhaps a win was just around the corner.
Then, Johnson ran into all sorts of issues at Kentucky and wound up with a 30th-place finish.
The seven-time Cup Series champion looked to be building consistency, but then the weird bad luck that he's had this year snuck up and bit him.
Jones isn't just fighting for a Playoff berth, he's fighting for his job. The 23-year old has been working on a contract extension with Joe Gibbs Racing, but if one doesn't ever hit paper he will be looking for a new ride in 2020.
Jones finished a solid third in Kentucky, which marked his fifth top-five of the season. It looks like Jones May be getting hot at the right time of the year as three of his five top-five finishes have come in the last eight races, he also has five top-10s over that span.
Surprisingly, Ryan Newman has been the most consistent driver in this lot recently, yet he is the first driver on the outside looking in at 17th in the standings.
Driving for Roush Fenway Racing, which has been an organization on the decline in recent seasons, Newman is getting every ounce of performance out of his Ford Mustangs.
Newman finished ninth at Kentucky, which was his fourth top-10 in the last five races. Over the last seven races, Newman hasn't finished worse than 17th. That is how you point your way into a Playoff.
Then there is Suarez.
Suarez has finished 17th-or-worse (including a last-place finish at Daytona) in each of the last three races heading into Kentucky.
Suarez rebounded by winning the pole. Then his night spiraled out of control with a pit road penalty. But then the driver of the No. 41 car rebounded to finish ninth.
In the end, Suarez lost another spot in the standings from 17th to 18th in what was his best race in a month. He and his race team are going to have to get much more consistent if they want to leap frog the drivers ahead of him and make it into the Playoffs.
That being said, who do I believe will make it into the Playoffs out of this group?
Barring any victories from drivers outside the top-18 in the standings, I fully believe that Johnson, Jones and Newman will make it into the Playoffs.
Johnson and Jones have shown the ability recently to finish inside the top-five while Newman has been rock solid and makes the most out of his opportunity each and every week.
Bowyer and Suarez — Stewart-Haas teammates — have shown great speed throughout the year, but SHR as a whole is down from where they usually are (no wins in the organization so far in 2019) and both drivers have had an odd combination of bad luck and flat-out inconsistency on the track.
I'll roll with a seven-time champion, a guy trying to save his job and a cagey veteran who isn't flashy but makes very few mistakes.