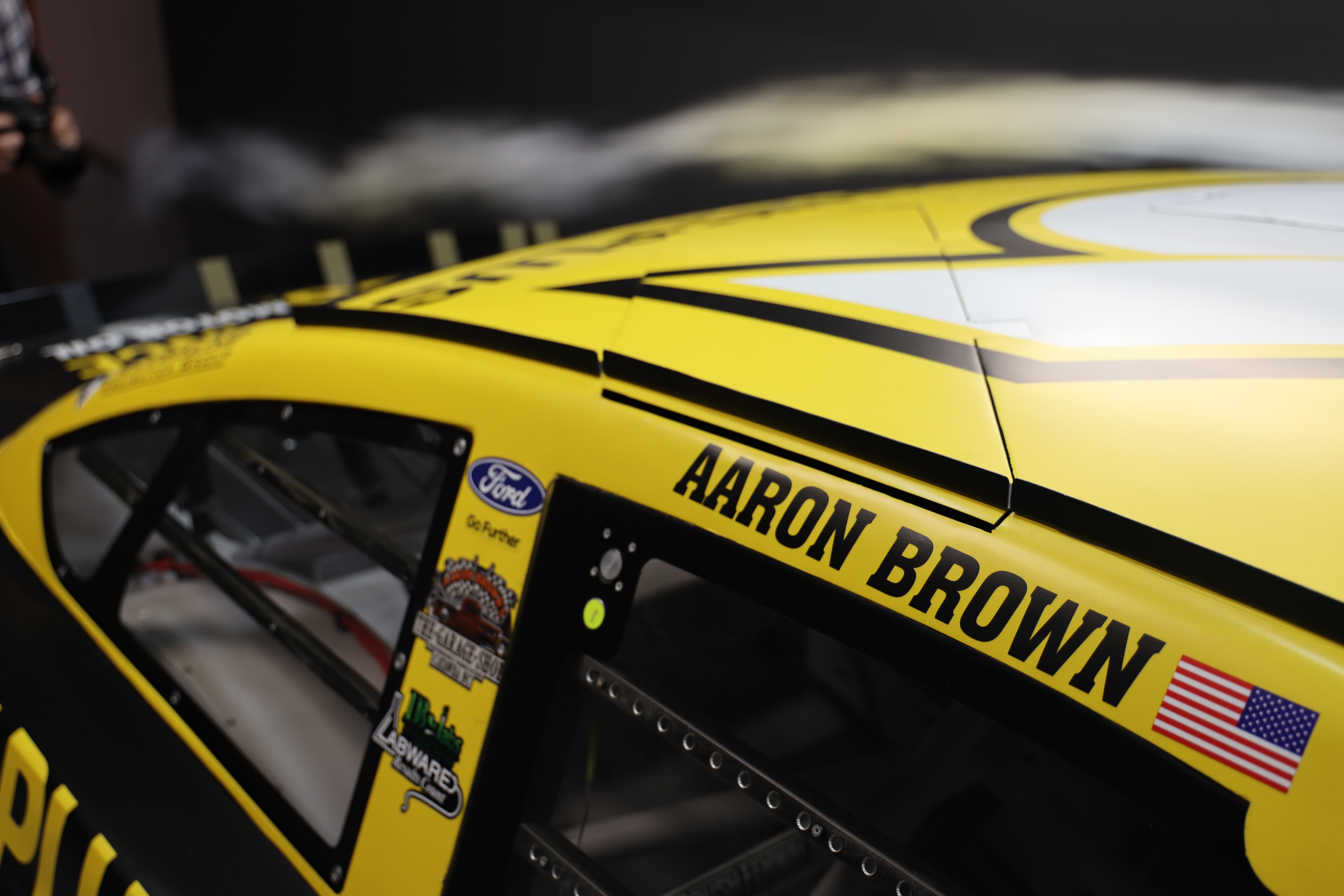 DENVER, NC (July 31, 2019) – Aaron Brown, thirteen-time land speed record holder and twenty-year NASCAR veteran, will pilot a 2018 Ford Fusion NASCAR Monster Energy Cup Series Stock Car at the SCTA Bonneville Salt Flats (UT) Speed Week event held August 10-16, 2019, in an attempt to break the current 244.9mph FIA record.
"This car is light years ahead of the 2007 Dodge Charger we built for Russ Wicks that set the FIA record back in 2007" says Aaron, who was the car builder and crew chief. Our goal is to get comfortable with the car on the short course before moving to run the long course and attempt to beat the current FIA record on the salt."
Plucked directly from the track at Talladega, Aaron recently tested the 2018 Ford Fusion at the Arkansas Mile bringing back four class records including a speed of 216.87mph in the standing mile off the truck. The Performance Plus Motor Oil, Roush-Yates 358 cubic inch Ford FR9 powered Fusion will answer the ongoing question, "How fast can a current NASCAR spec-legal stock car really go?"
For driver Aaron Brown, it's more than just a record, it's personal. Aaron grew up as a close family friend of the late NASCAR legend Bobby Isaac, who set the original 1971 record of 216.945mph in his #71 K&K sponsored 1969 Dodge Charger. "I made a promise to the Isaac family that I would get Bobby's record back and we did in 2007 with the 244.9mph record. Now, my goal is to shatter it once again in tribute to my hero, Bobby Isaac and his legacy."
"We are grateful to be teaming up with great partners for this endeavor," says Aaron. The primary and associate partners are: Performance Plus Motor Oil, Blackstone Grills, Domtar Attends Personal Care, Labware-DB Labs, Global K9 Protection Group, Staar Trick Shot Lubricants, Signal, Inc., and The Garage Shop supported charitable organizations VETMotorsports and Stop Soldier Suicide.
ABOUT AARON BROWN – THE GARAGE SHOP:
Owner and operator of The Garage Shop (founded in 2007) in Denver, NC, Aaron has dedicated his life to building some of the most unique and fastest cars, trucks and hot rods in existence. He is well-known in the NASCAR and land speed community as the builder and driver of the "The Uncatchable" Project 39, a 1939 Ford Rat Rod that currently holds nine land speed records. Prior to founding The Garage Shop, Aaron spent twenty years in NASCAR as a research and development fabricator for Ray Evernham and Dale Earnhardt Inc. He served as crew chief in the NASCAR K&N, Gander Outdoors Truck Series and Xfinity Series, and is a Navy and Army National Guard veteran. ###