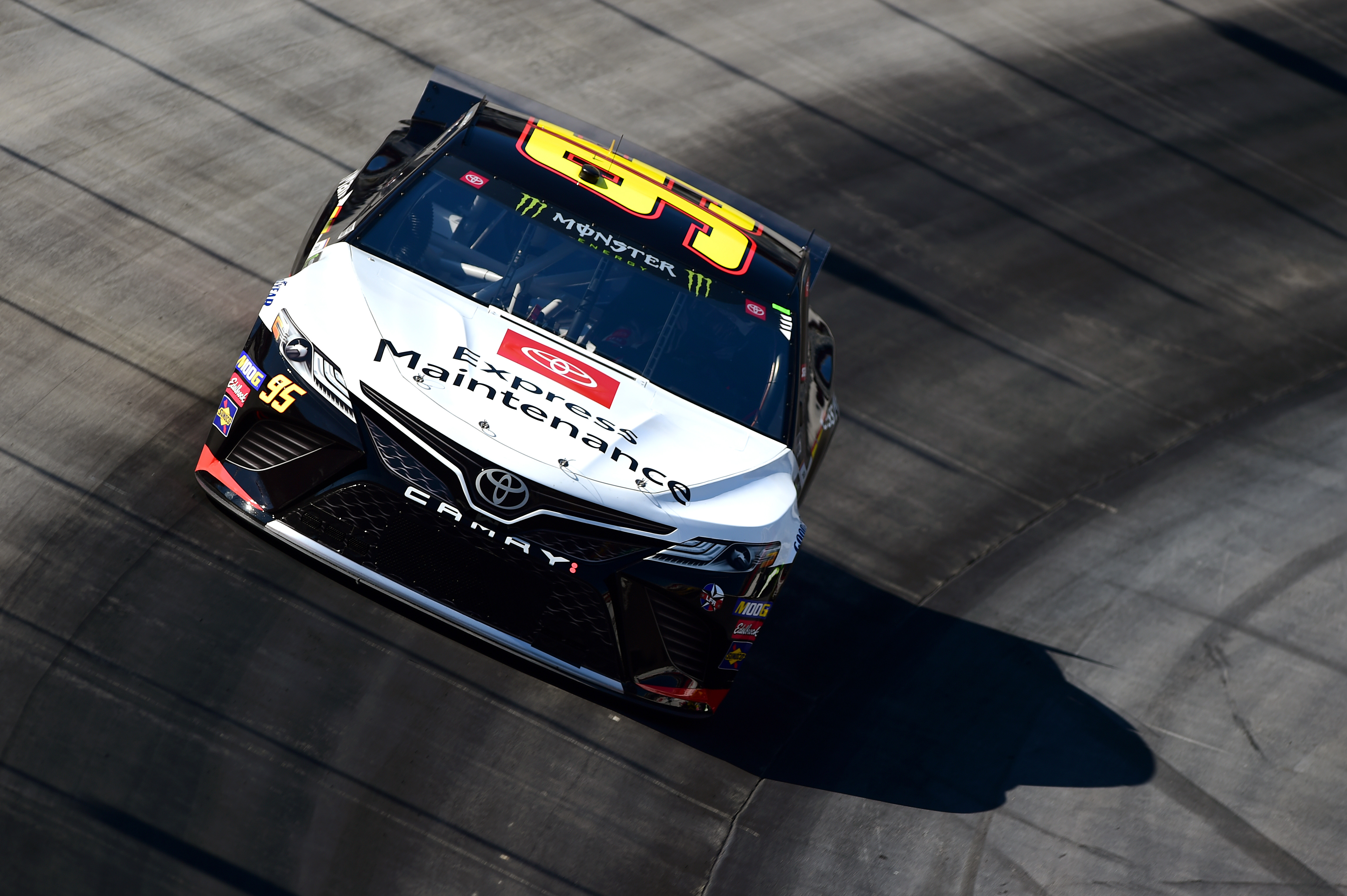 For Matt DiBenedetto, it has to sound like a broken record.
The 28-year old has scratched, clawed and climbed his way to the full-time Monster Energy NASCAR Cup Series ranks on pure talent and the sheer will to succeed. He doesn't carry a huge brand name or a massive list of sponsors everywhere he goes. And for that reason, mainly, DiBenedetto is again in a fight to save his career.
RELATED: Showcase your fandom for Matt DiBenedetto by sporting some of his driver gear, click here
He was a developmental driver for Joe Gibbs Racing. However lack of sponsorship held DiBenedetto to just seven NASCAR Xfinity Series starts over two seasons for the organization.
From there, DiBenedetto bounced around from underfunded NXS organization to underfunded NXS organization trying to showcase that he had the work ethic, he just lacked someone willing to take a chance on him.
Eventually, DiBenedetto got a decent break driving for BK Racing in the Cup Series for a couple of seasons. In 2016, DiBenedetto had a stirring and emotional sixth-place finish at the spring race at Bristol. This was the best finish in the now-defunct BK Racing's history, and it was the organization's only top-10 finish at a non-restrictor plate track.
It was obvious there was talent.
DiBenedetto's solid performance in the underfunded BK Racing ride yielded his next opportunity at Go Fas Racing.
Despite the team never recording a single top-10 before he came into their stable, DiBenedetto racked up three top-10 finishes over the next two seasons. It was apparent yet again that his talent was bigger than the opportunity he had been afforded. But he was lacking one thing to keep him from moving to the next level — sponsorship.
In the offseason, the California-native took a gutsy gamble. He walked away from Go Fas — a race team that had his back, supported him and wasn't afraid to put the underfunded guy in their equipment — in hopes that a more competitive ride would open up and come calling for him to drive it.
Fortunately for DiBenedetto, Leavine Family Racing — which had just forged a technical alliance partnership with Joe Gibbs Racing for the 2019 season — came calling. DiBenedetto jumped at the opportunity to show what he was capable of.
Out of the box, DiBenedetto impressed. The LFR No. 95 car, which had only led 60 laps over the first 184 races of it's history, paced the field in the season-opening Daytona 500 for a staggering 49 laps. DiBenedetto looked to be in the midst of writing the ultimate Cinderella story. Then, he was swept up in a multi-car melee 10 laps from the scheduled distance of the race.
It was exciting to see him at the top of the board. It was exciting to see DiBenedetto showing that in a competitive car, he could compete at the highest level. However, after all of the positives, the end result was a gut punch.
The Daytona disappointment was the start of what would be 15 races of frustration for the No. 95 group. DiBenedetto struggled in some races, and they had flat-out bad luck in the races that they were looking decent at. Through 15 starts, they had yet to finish inside the top-10 in a race.
Rumors began to swirl that DiBenedetto was a lame duck driver just keeping the seat warm for a young up and coming talent like Christopher Bell.
Then, DiBenedetto got hot. Starting with Sonoma in June, DiBenedetto and the team flipped a switch.
Over the next eight races, DiBenedetto would rack up season-best fourth place finish at Sonoma. In total, he would score two top-fives and four top-10 finishes over that eight-race span.
However, even as DiBenedetto continued to pile up great finishes, the rumor mill continued to churn. He heard what was being said.
"I'm fighting for my life," DiBenedetto explained after a sixth-place effort at Watkins Glen. "Everyone knows — they see the headlines and all of the mess in the media. I'm just fighting for my life and my ride. This is all I live for. I hope I can stay with this team. I love these people. They're so good. [Crew Chief Mike] Wheels [Wheeler], the pit crew all of our guys. I'm just lucky to be able to work with them."
Despite his recent string of success, DiBenedetto found out that it was not enough to save his ride at LFR as the team informed him early this week that they would be moving in a new direction for 2020.
It's a sad refrain, but it's not an uncommon one for DiBenedetto.
For a driver who's mother provides homemade cinnamon rolls for her son's race team rather than monstrous checks to keep her son behind the wheel of the race car, it's an all-too-familiar situation.
But don't expect DiBenedetto to get down and mope about the hand he was dealt.
In fact, in the wake of the news that he is out at LFR, DiBenedetto has handled everything with grace and has said all of the right things. While it would have been easy to be hurt and voice his frustrations in the media, instead DiBenedetto has thanked Bob Leavine and Toyota for the opportunity.
"At the end of the day, I've said in all my interviews and stuff, the main thing I want everyone to know, fans especially and social media and stuff, is to be easy on our team and Toyota and (Joe) Gibbs and everything because they're all still great people and they gave me this opportunity to go out do things like we just did today and have top fives and top 10s," DiBenedetto explained. "I wouldn't have been able to showcase that without them. I mean heck, I'm driving the JGR (Joe Gibbs Racing), the 18 car at Road America next weekend. Obviously, they're great people and I'm lucky to have the opportunity."
It has been all class for DiBenedetto, who can't waste any time worrying about a lost opportunity as every race now matters more than it ever has. The final 13 races of the 2019 season now serve as a pressure-packed job audition and if Friday at Bristol Motor Speedway was any indication, DiBenedetto is up for the challenge.
DiBenedetto was fourth-fastest in opening Monster Energy NASCAR Cup Series practice, he followed that up by turning the fastest lap of the final practice session. In Cup Series qualifying, despite having the disadvantage of qualifying early in the session, DiBenedetto was able to hang on for the seventh starting spot.
It was an impressive day for the man who has officially gone into survival mode.
Every practice session, every qualifying session and every race going forward could be the thing that sparks a team owner or sponsors interest in DiBenedetto, and he fully understands that. It'll be interesting to see if the man who has turned into a blue-collar fan favorite can do enough to land a solid ride for 2020.