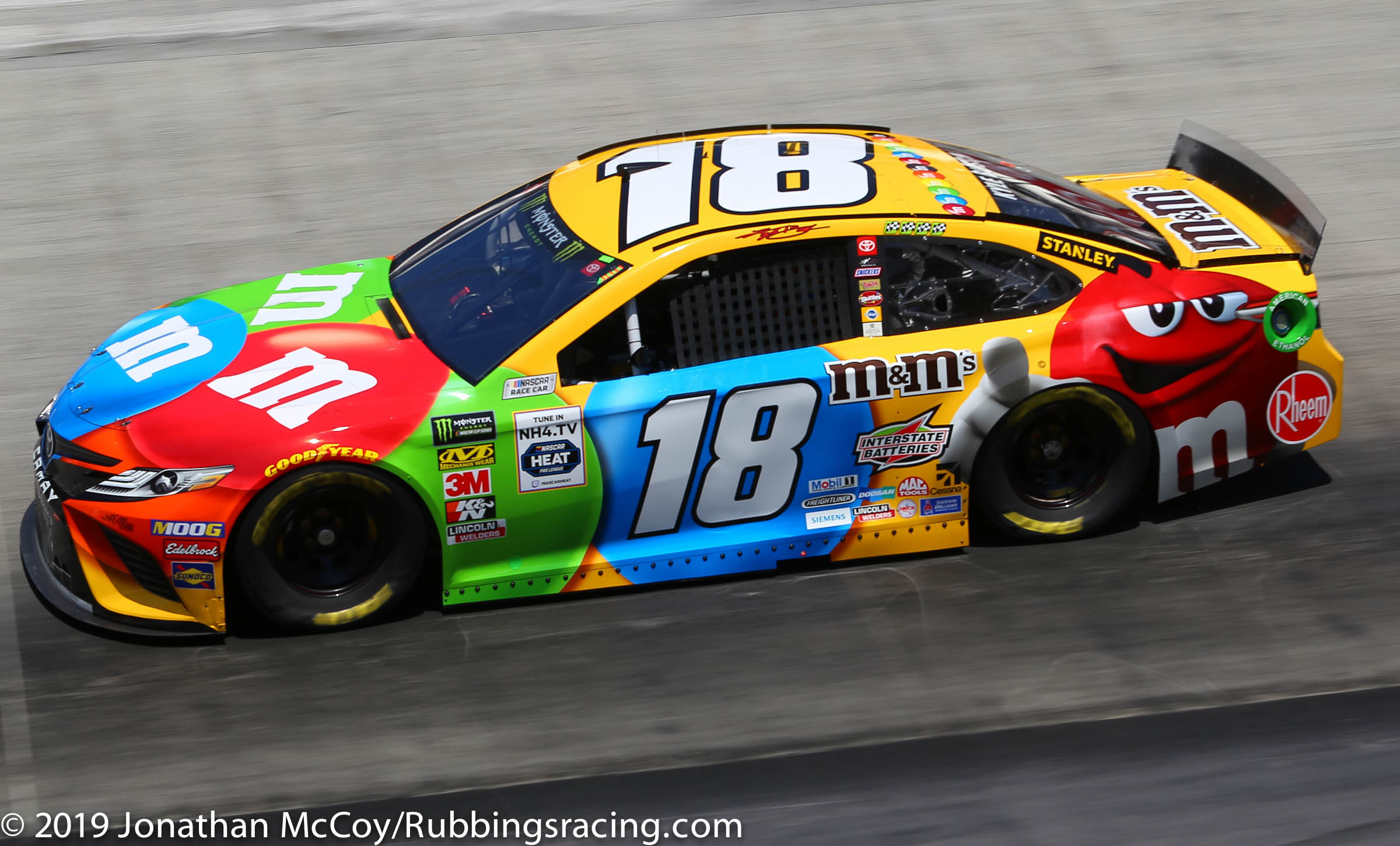 Saturday night's Bass Pro Shops NRA Night Race at Bristol Motor Speedway was an uncharacteristic struggle for Kyle Busch — who has eight wins at the half-mile track throughout his career.
He qualified 31st. Went a lap down early. Was able to get it back and battled tooth-and-nail all night long. In the end, Busch was rewarded with a fourth-place finish for his efforts. But after climbing from the car, Busch was less than satisfied.
Busch, who has four wins on the season, has had his winning rate slow down in the second half of 2019. It's been 11 races since he last won at Pocono Raceway back in June. Meanwhile, Busch's teammate Denny Hamlin has been setting the world on fire as of late.
After his latest rough day, Busch says that his No. 18 team has some huge work to do going forward.
"It's better than some other situations for sure," Busch said of coming back from his rough night. "Obviously Adam (Stevens, crew chief) and the guys do a really good job of being able to work on the car and constantly improve it and constantly make it better, but flat out getting our ass kicked right now by our teammates, so we've got to get better."
Busch feels he is flat-out getting his ass kicked by his teammates. That would be troubling for anyone to feel that way after dominating the early portion of a season, and then regressing just before the Playoffs begin. However, Busch is a bit biased about his own car's performance as he drives it and wants to win each and every week. Do statistics back up the claim that he is being destroyed by his teammates week in and week out?
No.
In fact, of the four Joe Gibbs Racing drivers, Busch has the second-best average finish over the last six Monster Energy NASCAR Cup Series events (6.7).
Obviously, Hamlin's torrid pace of late has been insane as the driver of the No. 11 car has put up an insane average finish of 2.3 during that same stretch. But Martin Truex Jr. (7.8) and Erik Jones (8.7), while running very competitive themselves, have not been out-running Busch each and every week.
Not only that, but Busch has been a more constant runner at the front of the field than his JGR comrades. Over the last six races, no JGR car has led more laps than the No. 18 has (279).
If you cut out all of Busch's 2019 starts aside from the past six races, he would still have the eighth most laps led in the entire series.
Just because Hamlin has gone on the biggest tear of his Cup Series career, don't let Busch or anyone else fool you. The No. 18 car is still very stout, as is all of Joe Gibbs Racing. They all are, Busch undoubtedly included, very much a threat to win the 2019 Cup Series title.