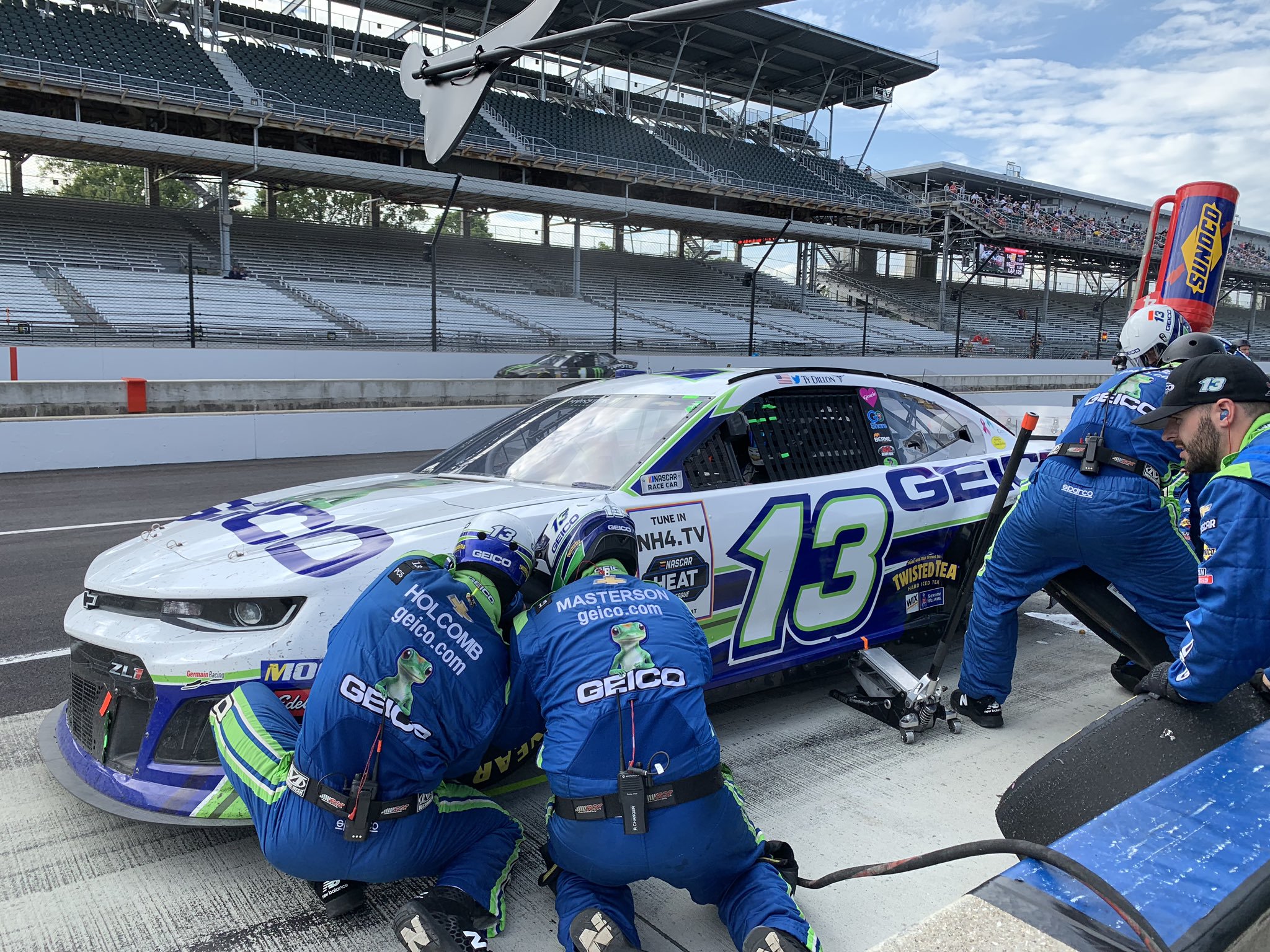 Ty Dillon put an exclamation point on squashing the rumors of an impending retirement with an impressive 13th-place finish in the Big Machine Vodka 400 at the famed Indianapolis Motor Speedway.
After rolling off the grid from the 25th-position, Dillon kept his nose clean despite a myriad of early issues on a wild day that saw nine cautions.
Dillon's car started off very tight in traffic, and on his first pit stop at lap 15 issues were compounded when his team was assessed a penalty for an uncontrolled tire.
As Stage 1 ended for a hard crash between Erik Jones and Brad Keselowski, Dillon was able to steer through the carnage and would move to 20th at the Stage caution.
Under the Stage break, Dillon and his interim crew chief Justin Alexander made the call to stay on the track to gain track position. This decision, which seemed like a good call at the time, nearly doomed the entire race for the No. 13 team.
On lap 85, Dillon made a scheduled green flag pit stop. Three laps later, the caution would come out. Dillon would be trapped a lap down.
Luckily, on lap 95, Dillon was able to take the wave around under caution to get back on the lead lap.
Now, as he headed toward the end of Stage 2, Dillon's once tight race car, had snapped to the loose side. However Alexander would continue to make calls on adjustments that would get the car in a position to compete, and before you know it Dillon was knocking on the door of a solid top-15 run.
Over the final 20 laps of the race, Dillon would hold serve and would come home an impressive 13th.
"Today was another solid day for our GEICO team," Dillon stated after climbing from his race car. "We continued to make the car better and better throughout the race and were able to miss the accidents in front of us. I battled a tight car for most of the race but Justin (Alexander) and I worked through adjustments together. I'm proud of my team for working hard all weekend and to finish 13th is more momentum for us to carry into next week. We continue to build our program and runs like this show that we are making gains."
The Germain Racing team is truly making gains as they head to the final stretch of the 2019 Monster Energy NASCAR Cup Series season. This 13th-place effort by Dillon, marks the fourth-consecutive week that they have finished inside the top-20.
This is only the third time in the team's history that they have put together four-straight top-20 efforts. Casey Mears accomplished the feat back in 2012, and Dillon achieved it for the team back in 2017 as well. Now, Dillon will look to record the first-ever five-consecutive race top-20 streak for the team next weekend in Las Vegas.