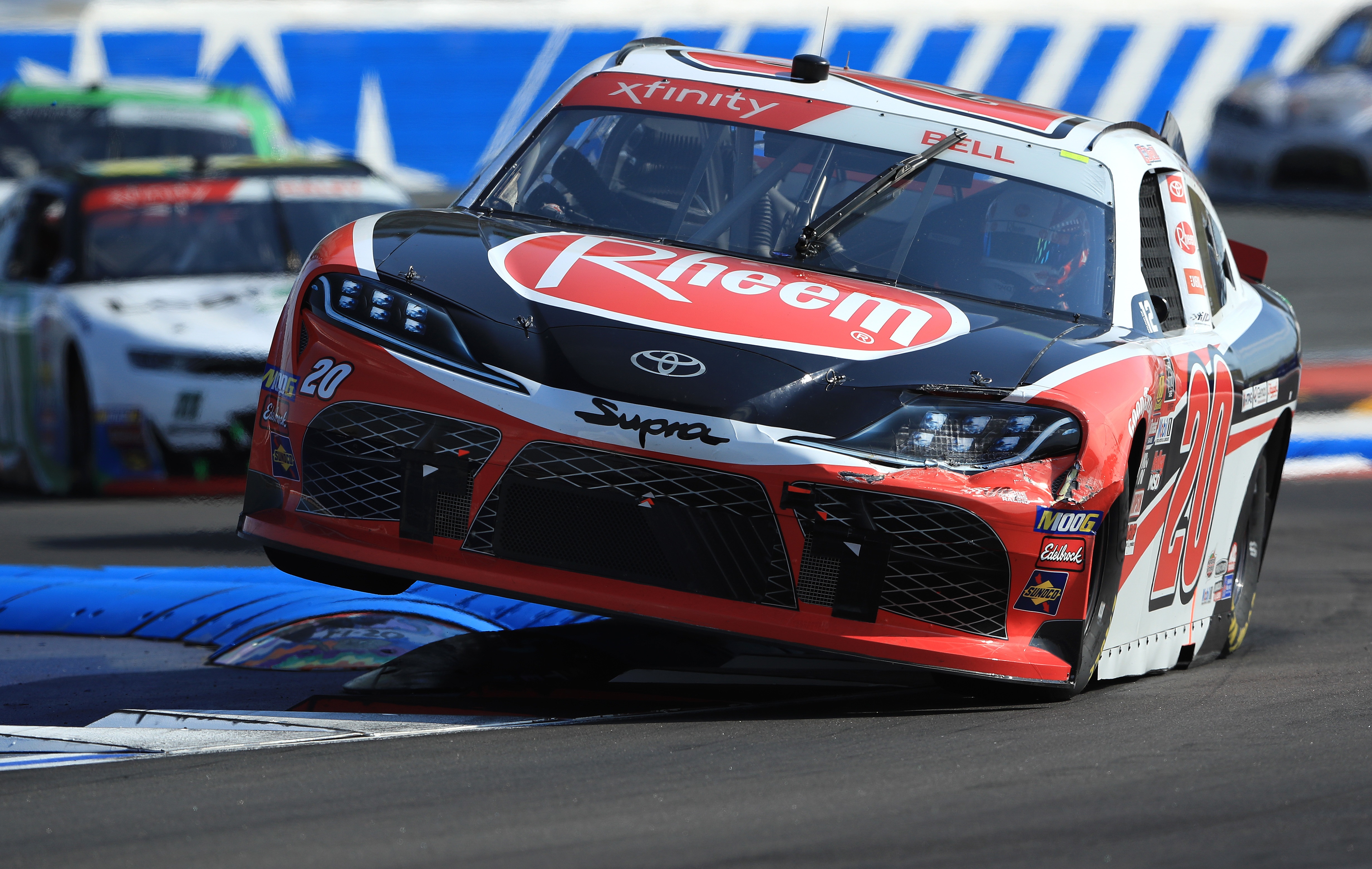 With 10 laps to go in Saturday's NASCAR Xfinity Series Drive for the Cure 250 at the Charlotte Motor Speedway Roval, it looked like Chase Briscoe was going to make quick work of Christopher Bell for the runner-up spot. Briscoe's car was faster than the race leader — AJ Allmendinger — at the time. For Bell, it looked like he would still hang on to finish at least third in the race.
Then things got a bit heated.
As the two were coming down the chicane on the frontstretch, they ran out of room. The two touched as Briscoe tried to make the move for the position. The contact sent Bell fully below the rumble strips in the turn. This is considered cutting the course, so Bell should have come to a stop to avoid penalty. He didn't.
"Whatever happened I remember looking to my left in the mirror thinking he was gonna stop because I knew he had to have went all four because I was two wheels over, so I don't know," Briscoe explained. "It was a racing deal. I feel like we were both trying to win the race and there's nothing wrong with that."
Instead, Bell felt as if he had been roughed up by Briscoe, and he was looking to exact revenge.
"[Briscoe] was really fast and I was going to let him go as soon as he got beside me and then whenever we got into the chicane, he didn't leave me any option besides running me off the race track," said Bell. "At that point, I was just going to race him back as hard as I could."
A few sets of turns later, Briscoe's No. 98 went spinning after a tap from Bell's No. 20. The caution would come out, and Bell would be penalized for cutting the corner. In an instant, the two drivers who were battling for second, were at the tail-end of the lead lap with just a handful of laps remaining.
Although, the first incident was a racing deal in Briscoe's mind, it was the retaliatory tap that got him seeing red.
"I felt like I got turned down here and that's what I don't understand," Briscoe questioned. "I mean, we're both racing for the win and I felt I was doing everything I could. I had no reason to move him off the race track or anything."
For Bell, he was shocked that he incurred a penalty for cutting the chicane, as he felt he was forced into the position he was in.
"I knew it was a penalty to miss the chicane, but there was a clause in there in the driver's meeting where if you missed the chicane due to an incident, NASCAR would review it," Bell explained. "I figured that me getting run off the race track and having no other option was a justifiable reason, but I guess not."
Regardless, it was a penalty. And now we could be seeing the beginning of a feud between two of the drivers in the Playoffs. However, Bell doesn't expect to see this incident to carry over into future events.
"We haven't ever had any issues before," Bell said. "He's a hard racer, I'm a hard racer. If he has a problem with it, he can come ask me my opinion. That's that."