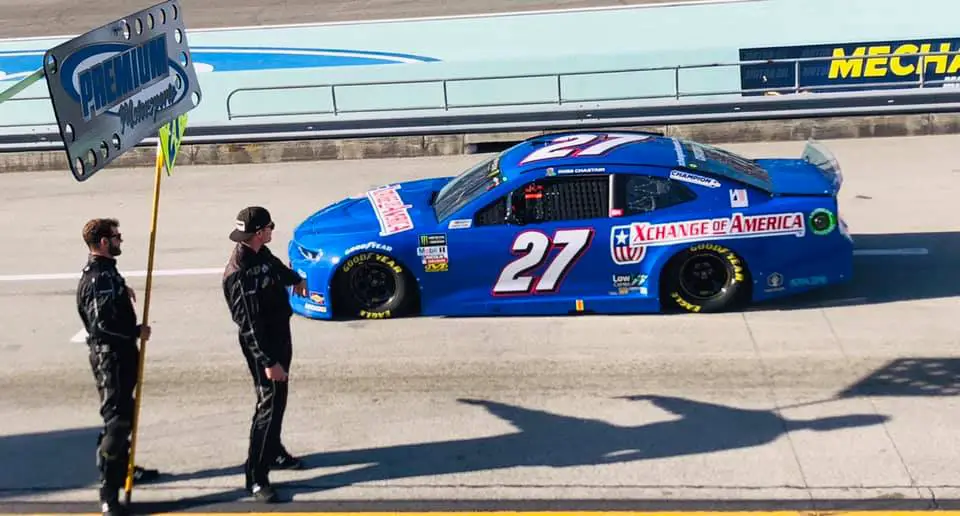 As Kyle Busch was easily cruising to his second Monster Energy NASCAR Cup Series championship, very few of us –myself included — realized that there was an intriguing battle going on for a different point lead. The top non-Charter car position in the Owner Points was up for grabs between Premium Motorsports' No. 27 team and the Gaunt Brothers No. 96 team in Homestead.
In the end, the No. 27 team prevailed.
However, over a week after the race transpired, it's looking more and more like Premium Motorsports altered the ending of the Homestead race for their own gain.
Speculation started in the form of a compelling yet plausible potential conspiracy theory post on Reddit's r/NASCAR page.
However, since redditor UFixMyLamp2 posted his theory on what happened in Homestead, evidence has started to roll in and it is truly looking like something nefarious took place at Homestead-Miami Speedway.
But what for? Who cares about who the top non-chartered team is?
Well, those non-charter teams care as there is a significant bonus for the top non-chartered team. How much? That is unknown as NASCAR does not disclose these figures, but from what I've been told, it is a significant amount.
Worth altering the outcome of a race for? Apparently so.
Heading into the final race of the season, Premium Motorsports' No. 27 team held what seemed to be a solid seven point lead over the Gaunt Brothers Racing No. 96 car in the standings.
However, with 33 laps left in the event, it looked like the bonus money had slipped through Premium Motorsports' grasp as Drew Herring had the No. 96 car up in 29th in his Cup Series debut. Meanwhile, Ross Chastain was stuck in 38th in the No. 27.
This meant the No. 96 team was now tied with the No. 27 organization for the top non-chartered spot, but the No. 96 would have the advantage as they had the tiebreaker due to two 15th-place finishes by Parker Kligerman at Daytona and Talladega earlier in the season.
The No. 27 was going to need a miracle if they hoped to get ahead of the No. 96 team in the standings, as all positions from 36th to 40th award just one point. This meant that Chastain would have to work his way to 35th over the final 33 circuits to get it done for Premium Motorsports.
This is where things get really intriguing.
Ahead of Chastain were Joe Nemechek in 32nd, driving a second Premium Motorsports ride, Reed Sorenson in 34th, driving Spire Motorsports' No. 77 car which has had a lot of help getting equipment from Premium Motorsports after buying the Furniture Row Racing Charter this past offseason and starting their team, and Josh Bilicki in 35th, driving Rick Ware's No. 52 machine.
Around lap 235, the radio chatter on Nemechek's No. 15 channel gets quite interesting and it honestly feels like an 'itchy arm' situation that Michael Waltrip Racing had at Richmond back in 2013, which led to massive penalties.
Scott Eggleston, the competition director of Premium Motorsports keyed the radio and said, "You got a power steering problem there, Peter?"
Crew chief Peter Sospenzo, sounding surprised at the revelation that his No. 15 car has a mechanical issue at first, then seemed to start playing along.
"Uh yeah, we could — yeah, yeah. I mean, let me know."
Well, that's an odd radio transmission. Why would Eggleston be letting Sospenzo know if there was a steering issue?
Less than four laps later, the odd steering box conversation continued.
Eggleston asked, "You got a steering box ready to go, Peter?"
Sospenzo replied, "Yep. Yep."
Eggleston then asked Nemechek if he has steering box issues, to which Nemechek replied "Say that again?"
Instead of asking the question again, Eggleston told Nemechek, "Steering box issues, need to bring it to the garage. Bring it to the garage, steering box issues. He's got steering box issues."
Nemechek radioed back, "10-4," and promptly pulled his No. 15 machine behind the wall and was done for the night. Chastain moved up to 37th as a result.
While the Nemechek in-car conversation was strange and seemed full of coded speak, a few laps later things get even more bizarre, as Spire Motorsports tried to tell their driver Reed Sorenson for several laps to go behind the wall, but it appears Sorenson ignored his crew for several laps.
At lap 243, Sorenson's spotter Joe Campbell said, "Smoke is starting to get really bad. Bring it in."
*Note: For what it's worth, I have been unable to spot any indication that NASCAR had posted the team for smoke trailing from their car or that they had even warned them about it. I also at the time of this post, have yet to see anyone from the track that night Tweet that the No. 77 car had any smoke trailing from it.
Regardless, smoke or no smoke, Sorenson still fails to respond and keeps clicking off laps. The competition director of this team, Scott Eggleston — yes the same exact competition director for Premium Motorsports — keys the microphone and said, "What are we doing here?"
Sorenson's crew chief Tommy Baldwin Jr. responded, "You've told him four fucking times, five times now."
Finally, Sorenson reacted by saying, "What do you want me to do? Come in this lap?"
Eggleston instructed, "Pit this time. Pit this time."
Sorenson asked whether he is going to the pit stall? Baldwin briefly answers for Sorenson to bring the car to his pit stall, before being overruled by Eggleston, who yells, "Garage!"
Sorenson pulled into the garage and is also done for the night. This odd exchange moved Chastain up to 36th in the running order.
Then, with 15 laps remaining, Josh Bilicki pulled the No. 52 Rick Ware Racing machine into the garage area and was done for the night. This moved Chastain to 35th and gave the No. 27 the much coveted last point he needs to secure a points victory over the No. 96 team.
Many have speculated that Rick Ware Racing did a solid for Premium Motorsports. While it is suspicious, there is no evidence at this time to support that theory.
Josh Bilicki spoke to TobyChristie.com about his early exit from the race and he states that there were a combination of issues that led to the No. 52 team calling it a night early.
Bilicki's team realized that they missed a lug nut on their final pit stop, which would have resulted in a $10,000 fine in post-race if they stayed on the track. After incurring a $10,000 fine in Phoenix the week before, they couldn't afford that. So it was either pit or end the race early.
According to Bilicki, they were stuck on extremely old tires and there was a fear that they would cause an incident with the leaders, who were battling for an overall championship.
The No. 52 car had already caused drama earlier in the season for Kyle Busch with Garrett Smithley behind the wheel at Las Vegas, and they didn't want that to be the case again.
Bilicki said the new rules package made Homestead tougher on the smaller off-pace teams, because unlike year's past the fast cars didn't just stick to the top groove. Instead, they were all over the place.
After debating it, Bilicki says he and the team opted to park the car for the night as they had nothing to gain in returning for a few more laps and had far more to lose if something negative happened.
However, whether the No. 52 parked it to aid Premium Motorsports or if it was in an effort to prevent a fine and/or a potential championship-changing accident, is a moot point as it is becoming apparent that there was some form of obvious coordination between all three Premium Motorsports-aligned cars in the race to do everything possible to secure the top non-chartered spot for the No. 27 team.
Had the other two cars driven by Nemechek and Sorenson not been parked after strange radio communications with Eggleston, the No. 27 team would have come up a single point short of defeating Gaunt Brothers Racing for the top non-charter spot in the year-end owner standings.
This is not a good look, and for Gaunt Brothers Racing's sake, this deserves a second look from NASCAR.