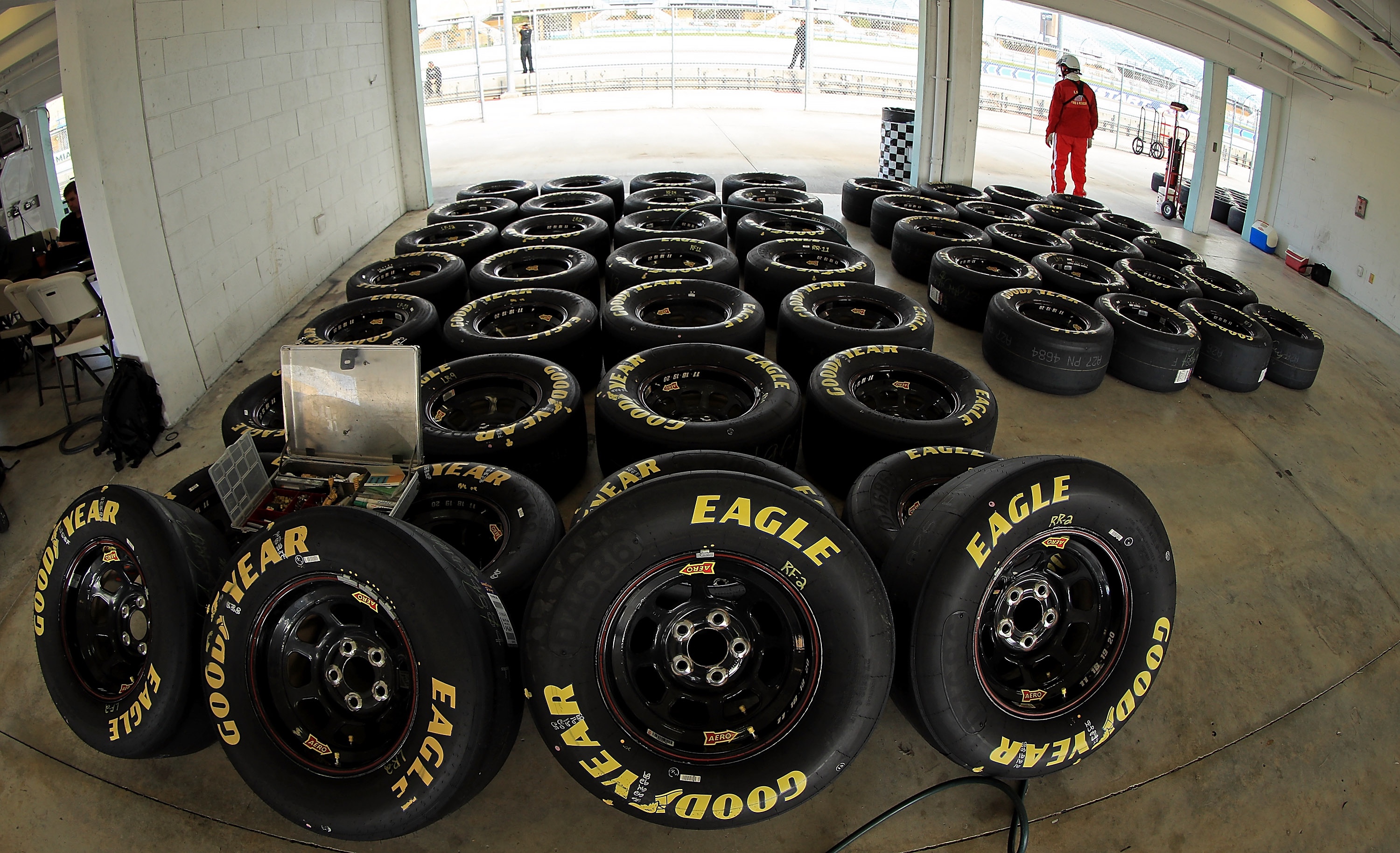 There has been a lot of speculation about whether NASCAR would continue to utilize a five-lug nut wheel when the NextGen car comes to the NASCAR Cup Series for the 2021 season. On Monday, NASCAR confirmed that the NASCAR Cup Series will move to a single-lug nut wheel next season.
NASCAR's senior vice president of innovation John Probst confirmed the news and NASCAR released what the new single-lug wheel will look like on Twitter.
According to Probst, NASCAR's move to an 18-inch aluminum wheel (NASCAR has used a 15″ steel wheel for decades) forced the sanctioning body's hand at moving to a single-lug nut as loose lug nut's drastically lower the durability of aluminum wheels.
"For us we felt like from a standpoint of the wheel is that we wanted to get to an 18-inch wheel, an aluminum wheel," Probst said. "Once you get to an 18-inch aluminum wheel, the next step for us is to make sure that from a durability standpoint under racing conditions is that it will accept the durability that we need to finish races and then also finish multiple races. To do that, the single nut was our only option."
For those who are upset with NASCAR ditching the traditional five-lug nut pattern, Probst says that in order to get the overall wheel closer to stock wheels on the market today, it was a necessary change.
"The answer became pretty clear that we needed to go single lug nut," Probst said. "And I know that a lot of folks might say, 'Well, if product relevance is your main goal, name me a car that has a single lug nut.' I'm not sitting here saying I could, but I can name lots of cars that have 18-inch aluminum wheels. And that once we decided 18-inch aluminum wheels was the primary driver, the engineering solution was pretty clear."
The NextGen car that William Byron is testing at Auto Club Speedway on Monday and Tuesday is equipped with single-lug nut wheels.
In addition to ensuring the wheels remain durable enough to use for multiple races, or even years, this will undoubtedly decrease the time it takes to change a tire, as a tire changer now only has to hit one single lug nut instead of five.
Probst also went on to say, other than the slightly faster pace that stops could achieve, there will be little — if any — change in the chorography of the current NASCAR pit stops.
In fact, NASCAR will not be altering the size of team rosters or live action pit crew sizes.
This change will also signal an end to post-race lug nut checks, which means a lot of crew chiefs will be able to keep their wallets a little fatter next season.