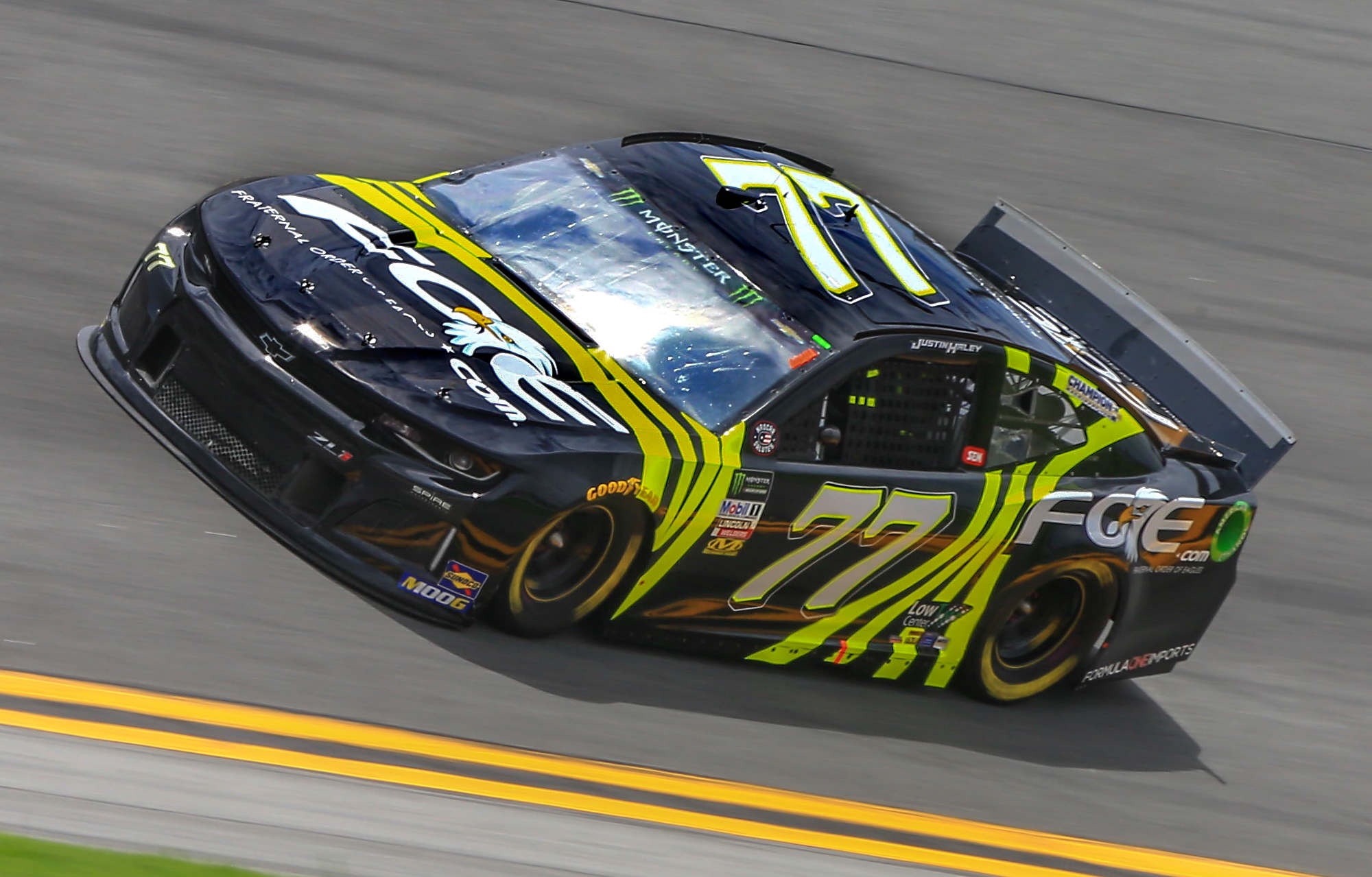 To call Justin Haley's win in Sunday's Monster Energy NASCAR Cup Series Coke Zero Sugar 400 at Daytona an upset would be a massive understatement. Okay, it would be more than a massive understatement. There aren't even words that have been constructed yet to describe how big of an underdog story the No. 77 car was on Sunday.
Haley, 20, was making his third-career start, and he was a 1,000 to 1 betting underdog.
Yet the planets — and more importantly weather patterns — aligned perfectly and the youngster became the 193rd winner in Cup Series history. What's more, it very well could be the biggest upset win in NASCAR history.
When people think of upsets in the sport of NASCAR they think usually think Greg Sacks at Daytona's July race in 1985 or Derrike Cope in the 1990 Daytona 500.
However, when you look at everything involved with those two wins they don't measure up to what happened on Sunday.
Sacks was in the R&D car for DiGard Racing on that fateful day in 1985. DiGard was a potent team in the 1970's and 1980's. In fact, just two years before Sacks' lone Cup Series win, the team had won the driver's championship with Bobby Allison behind the wheel. It was Allison's only Cup Series championship in a storied career.
Cope's triumph was a bit more of an underdog story than Sacks as he was driving for a fairly new team owned by Bob Whitcomb. However, Cope had legendary crew chief Buddy Parrott on the pit box. Parrott scored 47 wins as a crew chief during a 23-year Cup Series career.
Cope went on to win at Dover later in the season as well, proving their win in the season-opening race, after race leader Dale Earnhardt shredded a tire on the final lap, was not a fluke.. That No. 10 team had decent speed in 1990.
Spire Motorsports, who Haley drives for in the Monster Energy NASCAR Cup Series on occasion is far from a power house organization like DiGard was or even an upstart team that has shown the slightest potential like Whitcomb's old No. 10 team.
The Spire team was formed in the offseason with a $6-million bank loan that purchased the Charter from the now-defunct Furniture Row Racing team.
Through 17 races in 2019, the Management Firm turned Management Firm with a race team struggled mightily. The team's best finish was a 22nd-place effort by Jamie McMurray in the season-opening Daytona 500, but that was basically a third Ganassi Entry that was using the Spire Charter to lock themselves into the field.
Aside from that 22nd-place finish, Spire Motorsports had a 28th-place finish in the Coca-Cola 600 and a 29th-place finish at Pocono a race later. Those are the only finishes the team had registered — before Sunday — that were better than 30th-place.
The team's average finish heading into Sunday's race: 32.5
Haley was sitting in the 27th-position when all of a sudden Austin Dillon and Clint Bowyer triggered a 19-car pileup in the front of the pack. In this crash Haley moved past 17 cars. As the race went to caution, storms were closing in on the speedway. When NASCAR gave the one lap to green indication on lap 132, the nine cars left ahead of Haley, led by Kurt Busch, pitted.
Roughly 30 seconds later, a lightning strike within eight miles of the speedway forced NASCAR to call off the green flag and red flag the race. It never resumed.
The No. 77 car had no right to be in front of the pack on Sunday, much less ending up in the make-shift victory lane that was constructed in the media center once the race was officially called. Yet, there they were.