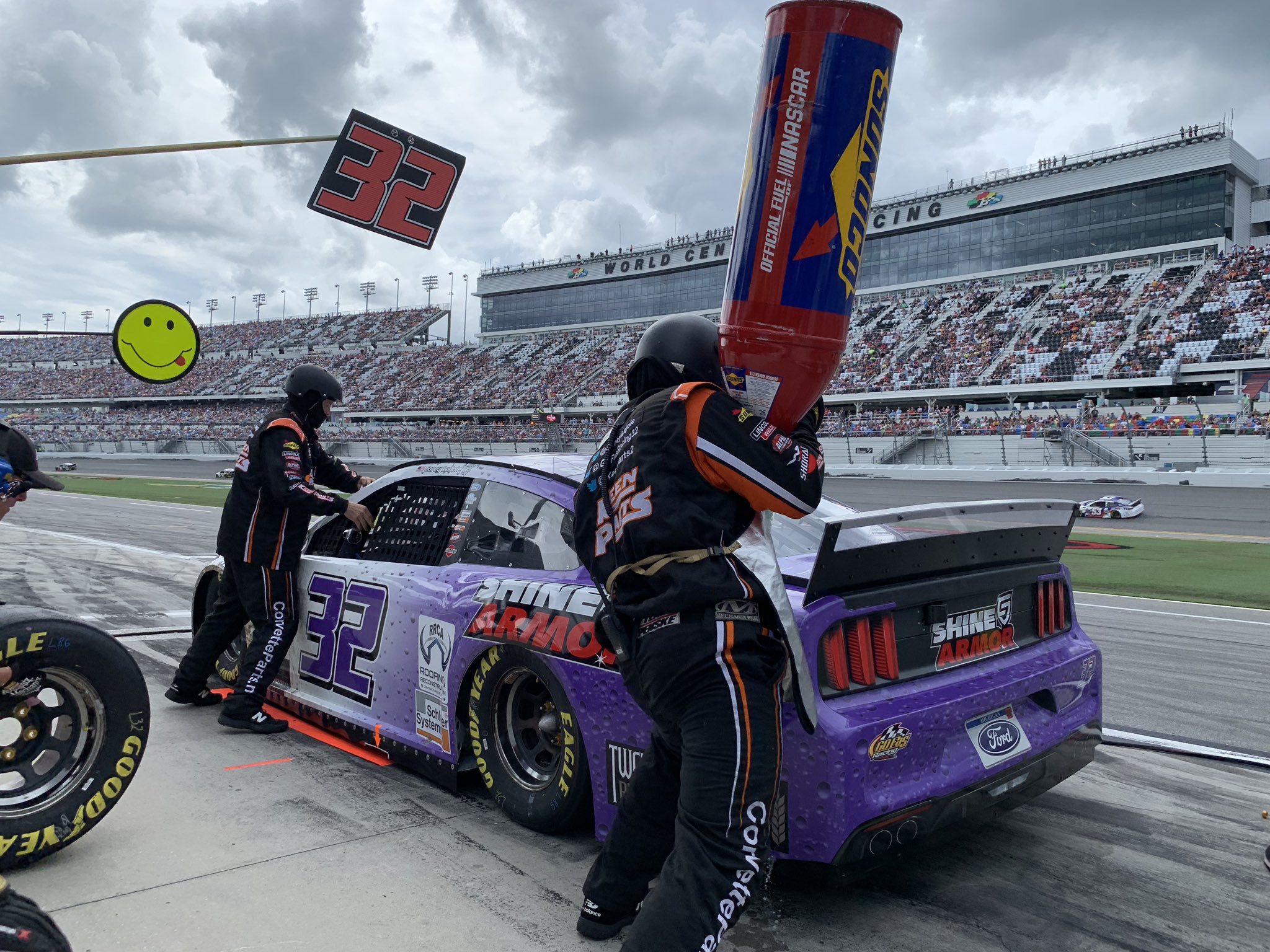 Here we are 18 races into the 2019 and Corey LaJoie is starting to turn heads in the No. 32 Ford Mustang for Go Fas Racing for more reasons than his face being plastered on the car or for tasting pizza with Barstool Sports.
The perennial underdog team is getting consistent results out of their 27-year old driver and they are on the cusp of the best year of their organization's existence.
LaJoie racked up his third top-12 finish of 2019 in this past weekend's rain-shortened Coke Zero Sugar 400 at Daytona International Speedway with a career-best sixth-place effort. LaJoie was tickled to leave the carnage of Daytona — no matter what lap the race ended on — with a solid day and a car in one piece.
"Sixth for us, no matter what the circumstance, is a good day," LaJoie said. "If you told me I could take a sixth-place finish before we even started I would have taken it to the bank and ran with it."
This marks LaJoie's first-career top-10 finish in the Monster Energy NASCAR Cup Series, but had LaJoie and his team not opted to march down pit road just before a lightning strike halted the race, the day could have been even better.
"That's cool for Justin [Haley]," LaJoie said. "That's obviously not how he wanted to win his first race, but at the end of the day there's no asterisk in the record book and there's no asterisk in the record book for finishing sixth, either.
"We had a good Shine Armor car. Our tactic was just to ride and try to miss those big ones and that's what we did. In hindsight, we shouldn't have pitted and we probably could have ended up second, but coulda, woulda, shoulda."
Even though they left a little on the table, a career-best finish is a cause for celebration.
LaJoie, son of two-time NASCAR Xfinity Series Champion Randy LaJoie, eloquently states that his little team that could is quietly "stacking pennies" when they finish around 20th to 30th. Now, mid-way through the season, they are becoming fixtures inside the top-12.
All three of LaJoie's top-12 finishes in 2019 have come over the last nine races. In addition to the great result at Daytona, he finished 11th at Talladega and he finished an eye-opening 11th in the Coca-Cola 600 back in May.
What makes these finishes even more impressive is that the No. 32 team has never had more than two top-12 finishes in a single season. LaJoie has already surpassed that number at the half way point of the year.
If LaJoie can keep up his current pace, he will be known as the man who has had the best season in Go Fas Racing's eight-year history.
The best average finish that the No. 32 car has ever achieved over an entire season was a 27.0 by Matt DiBenedetto a season ago. After 18 races, LaJoie's average finish sits at 25.2.